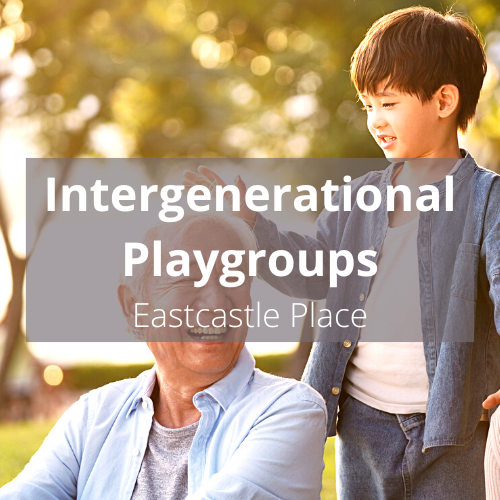 Older adults have a special place in our hearts. Kids Impact Community has hosted intergenerational playgroups since the organization's inception. Our kiddos have learned patience, kindness, and how to make new friends of all ages, and our grandfriends benefit tremendously from the interaction with our children.
Activities
Your family will participate in a variety of themed playgroups complete with songs, dancing, a craft, and snack.
Purpose
To provide an opportunity for children, parents, and assisted living residents to interact and play with each other in a relaxed, friendly, and organized environment.
Impact
Children will develop awareness of and relationships with members of the community they would otherwise not meet. Residents in the assisted living facility will have a chance to be around our energetic and humorous cutie-pies and offer their love and gentle care for them.
When & Where
Sept. 19-Dec. 19 from 10:30-11:15 a.m.
Eastcastle Place
2505 E Bradford Place, Milwaukee, WI 53211
Please meet in the main lobby.
Parking: Street parking is available on Bradford Place or Stowell Ave. Please allow some time to find parking.
The playgroup sessions occur on the third Tuesday of every month from 10:30-11:15 a.m.
September 19

October 17

November 21

December 19
We encourage participants to sign up for an entire session – if there are only a few dates you can make in the first or second session please just let the KIC team know. Signing up for a full session helps the residents see familiar faces and helps to ensure participation in our playgroups. Please reach out with questions. 
Registration Information
Cost: Free
Attire: Masks required per Eastcastle for adults. Have your kids dress for play.
Questions: If you have any questions, please contact Julia Mattek at [email protected].
CDC Update
Liability Waiver with COVID-19 precaution acknowledgements:
I, the undersigned and/or parent/guardian of the individual(s) named above, do hereby agree to indemnify and hold harmless Kids Impact Community, and its agent from and against any and all liability resulting from participation in the project listed above. I understand that the project (s) in which I am enrolling, like all activity programs, has some inherent risk, for which I agree to assume the liability. Furthermore, the individuals named herein are in good health appropriate for the activities in which they will be participating.  Additionally, I confirm that all statements below are true for myself and anyone in my household.
No one in my family has tested positive for COVID-19 in the past week nor is anyone currently under quarantine.
No one in my family experienced any symptoms of COVID-19 (fever, cough, shortness of breath) in the past week.
No one in my family has come into contact with anyone testing positive for COVID-19 in the past week.
No one in my family has, to my knowledge, been exposed to or come into contact with someone with or presumed to have COVID-19 in the past week.
For KIC promotion purposes, photographs may be taken of participants. If you do not wish to have your photo taken, please notify the photographer or instructor. No names or any other identifying information will be shared if the photograph is used, unless requested.