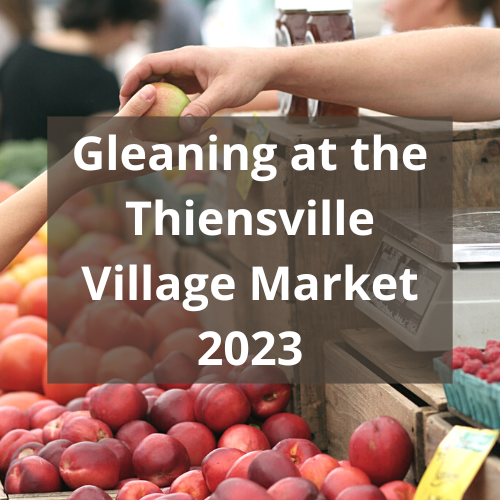 Do you love farmers' markets? Is your child a social butterfly? Do you enjoy sharing fresh, healthy foods with other families in our community? If so, we have a perfect opportunity for you! In partnership with Tikkun Ha-Ir, KIC children and their caregivers will collect donated produce from sellers at the Thiensville Village Market and deliver to Family Sharing of Ozaukee County.
Activities
Come collect produce from local farmers on Tuesdays at Thiensville Village Market. Sign up for one or more Tuesdays between July 11th and October 10th. The market is at Thiensville Village Park from 9 a.m.-2 p.m. Your family should arrive around 1 p.m. and collect from the individual stands until 2 p.m. Bring a cart or wagon or arm yourself with plenty of bags and boxes. Then deliver the produce collection to Family Sharing of Ozaukee County before 4 p.m. 
Purpose & Impact
Children and caregivers will serve and act with confidence and compassion towards others by collecting and sharing healthy foods with a local food share center.
When & Where
Tuesdays from July 11 to Oct. 10 between 1-4 p.m.
Thiensville Village Market and Family Sharing of Ozaukee County
Located in Village Park at 250 Elm St, Thiensville, WI 53092
Family Sharing of Ozaukee County is located at 1002 Overland Court, Grafton, WI 53024. They have a food pantry that goes until 4 p.m. on Tuesday, and another one on Wednesday. It is a perfect recipient for the collected donations.
You will be able to indicate in the registration link which weeks you are able and willing to help collect food.
Registration Information
Ages: All ages welcome!
Cost: Free
Questions or Cancelations: Please email [email protected] or [email protected] if you have any questions or if you are unable to make it so we can make sure we have a replacement for the experience.
More Information