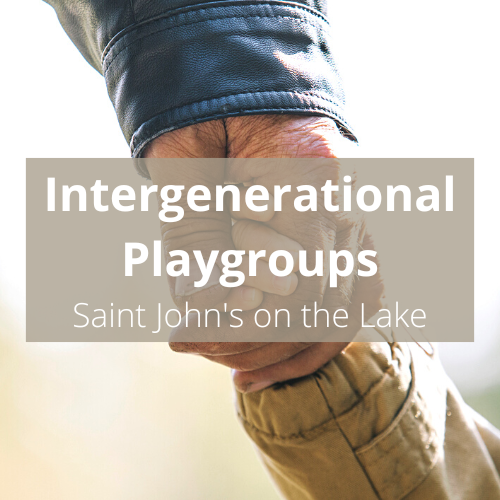 Join us for another year of cherished experiences with your children and the friends from St. John's Senior Living Community. These monthly playgroups follow simple structured play for 45 minutes. This is a great chance for your little one(s) to get out and meet new kids and brighten the day of seniors. By joining these playgroups you and your children will learn patience, kindness, and the chance to make new friends. Our friends at Saint John's benefit tremendously from the interaction with our children.
Activities
At each playgroup, we follow the same structure to help children and residents alike become familiar and comfortable in the playgroup. We begin with a hello song followed by a book, a craft, and an activity. If time permits, we will have free play followed by our goodbye song. We always have a new fun theme each month!
Purpose
To provide an opportunity for children, caregivers, and older adults to interact and play in a relaxed, friendly, and organized environment.
Impact
Children will develop awareness of and relationships with members of the community they would otherwise not meet. Residents in the assisted living facility will have a chance to be around our energetic and humorous cutie-pies and offer their love and gentle care for them.
When & Where
September-January from 1:30-2:15 pm.
We are encouraging participants to sign up for an entire fall session if possible. If there are only a few dates you can make, please let us know. Signing up for a session helps the residents see familiar faces and helps to ensure participation in our playgroup. Please reach out with questions.
September 21

October 19

November 16 (skip December)

January 18
Saint John's on the Lake
North Tower
1858 N. Prospect Ave, Milwaukee 53202
Parking: Park in the north parking on the ground level under the building at 1858 N. Prospect Ave. Or you can park in the south lot at 1800 N. Prospect Ave. Each of the entrances takes you into a central lobby area.
Registration Information
Participant Cap: Maximum of 20 participants
Age: All Ages!
Cost: Free
Attire: Have your kids dress for play!
Questions: If you have any questions, please contact Maria Sartori-Weiland at [email protected] or Anna Graham at [email protected]