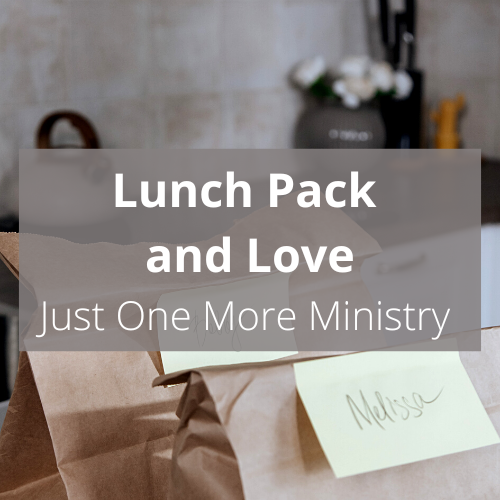 Just One More Ministry, located in Glendale, is an organization that rescues excess food from area restaurants, food suppliers, and caterers and repackages them for shelters, food pantries, and community members in need.
Inflation and rising grocery prices continue to disrupt the organization's regular streams of food, and they are in need of additional support through packed bagged lunches. These lunches are easy to distribute and are handed out as quickly as they are received. This is a helpful dinner option for kids if their housing lacks the appliances needed to heat and prepare food.
Registration Information
Participants: 20 family cap and all ages welcome
Cost: Dependent on what families buy for the bagged lunch supplies.
Materials: You will be responsible for supplying the following materials to complete 20 packed lunches:
Approximately two loaves of bread
Peanut butter and jelly or meat and cheese
Clementines/oranges, bananas, or apples
Additional treat/snack (optional)
Plastic sandwich bags
Paper lunch bags
Inspirational notes decorated by the kids
Cancellations: In the event that circumstances change and you are no longer able to assist, please email [email protected].
Questions: Please contact rachel@kicmke.org with any questions.
Activities
Your family will assemble 20 lunches including a sandwich (peanut butter and jelly or meat and cheese with no condiments) wrapped in a plastic sandwich bag, a piece of fruit (orange/clementine, banana, or apple), and an inspirational note/care card (or whatever beautiful decorations your littles wish to create). If you would like to include an additional treat or snack, feel free though it is completely optional. Once you've assembled the lunch items, place them all into a paper lunch bag. Sandwiches should remain separate from the other lunch elements. Just One More Ministry will be freezing them prior to delivery to ensure health safety.
Purpose
Kids will assist residents throughout the Greater Milwaukee community struggling with food insecurity.
Impact
Kids will gain awareness and understanding of how their own capabilities can help their community in need.
When and Where
Your family will complete this project in your own home following food safety guidelines.
Drop off the packed lunches outside a KIC family home in Bayside, Whitefish Bay, Bayview, and the West Side of Milwaukee (specific addresses will be provided after sign-up) between 1-8 p.m. on Sunday, May 21. We will deliver all lunches to Just One More Ministry for distribution on May 22.
In order to assure food safety in preparing food for the community in your own home, all volunteers must agree to:
Follow USDA guidelines to fully disinfect the surface prior to meal preparation
Follow the Wisconsin Department of Agriculture, Trade and Consumer Protection guidelines on washing hands with soap and water for at least 20 seconds
Follow the WI DATCP rules on no bare hand contact with ready-to-eat foods ie. wear gloves or use tongs. When using disposable gloves, refer to these guidelines.
To ensure health and safety in preparing food for people outside of our own families, we also ask that everyone two years of age and older wear a cloth face covering while preparing the sandwiches.
Learn more about the Just One More Ministry on their website, JSonline article, and CBS58 segment.