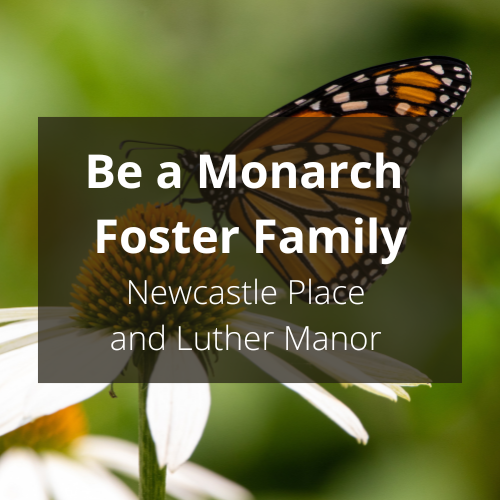 Kids will have the opportunity to learn about and provide weekly care to monarchs in all phases of life. During this process, kids will interact with seniors at a local assisted living facility and develop organic intergenerational relationships.
Activities
Visit your assigned assisted living center once per week (you pick the day)! Family jobs include: providing milkweed to habitat as needed, interacting with senior residents and staff (point out the new/growing caterpillars, explain what you are doing), cleaning the monarch habitat, removing frass and limp/moldy leaves, checking each leaf for baby caterpillars before you discard them, and participate in releasing butterflies whenever possible.
Purpose
Families will learn the basics of fostering monarch caterpillars and become caretakers of monarchs in all stages of development at a local senior living facility. 
Impact
Engage with seniors and life cycles in nature with this fun, hands-on experience fostering monarchs in habitats established at a local assisted living facility.
When & Where
Families choose a preferred day of the week. (**There are subs available for weeks when families cannot attend).

Families can stop by their assigned assisted living facility any time of the day between (8 a.m. and 7 p.m.).

Individual family training sessions will be provided to the families in early- to mid-June by our leader, Kathy Platt.
Newcastle Place, 12600 N Port Washington Rd, Mequon, WI 53092
Luther Manor at River Oaks, 11340 N Cedarburg Rd, Mequon, WI 53092
Registration Information
Participant Cap: Six families
Age: All ages welcome!
Cost: Free
Materials: Some assisted living centers require masks to be worn. Please check at the front desk when you arrive. All equipment for the project will be supplied.
Questions: Please contact Lynn at [email protected] with any questions. We will send you an email to confirm registration and touch base in early June to schedule a family training time with Kathy.
Cancellations: Please text/call Kathy at 414-630-5629 or Lynn at [email protected] in the event of a cancellation so we can have a sub cover your day.
More Information
Leader Kathy Platt, a former Public Health Nurse at the North Shore Health Department, currently coordinates an intergenerational monarch fostering project at a senior living facility in Mequon and received a Community Connections grant in August 2022 to expand to additional senior living centers in 2023. We are excited to be a part of her project!