Youth Helping Youth: Pack Duffel Bags for Kids in Foster Care
January 16 @ 4:00 pm

-

January 28 @ 5:00 pm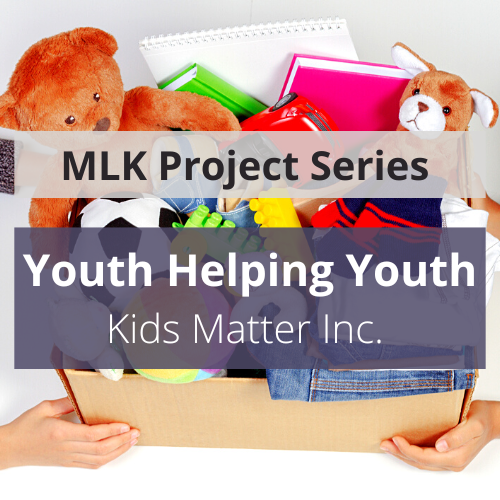 Join Kids Impact Community for a kid-led celebration of Martin Luther King, Jr. Day. Participate in a compelling virtual event about foster care with leaders from Kids Matter Inc.
Your children will then take the lead on a service project engaging neighbors, friends, and family to pack a Fostering Hope duffel bag for kids in foster care, including items such as a book, a toy, new pajamas, and a lot of love.
Nearly 100 children in Milwaukee County are removed from their homes each month because they are deemed unsafe, according to Children's Wisconsin. And, many of these children enter foster care with little more than the clothes on their backs. A Fostering Hope duffel bag gives a child something to call their own during a challenging time of transition. 
This is a great opportunity for our kids to learn they have the capability of making a real difference in our community while spreading Dr. King's message of equity and love!
All duffel bags will be distributed by Kids Matter Inc., an organization that supports kinship and foster children as well as all community members working to keep kids safe. Kids Matter Inc. believes that every child needs someone in their corner. Through staff and volunteers, the organization makes sure that children and their foster families get the support they need.
Activities
Part One: Virtual Event on MLK Day
We will gather together on Zoom to celebrate Dr. Martin Luther King Jr., learn about foster care through stories, meet representatives from Kids Matter Inc., and learn all about the service project. We will empower your children to take the lead on this project and help them understand the difference these duffel bags make in a child's life. 
Part Two: Service Project All Month
Your children, along with an adult, will reach out to family, friends, and neighbors to ask for donations to help fill a Fostering Hope Duffel Bag. After you register, we will follow up with a detailed email including important dates, a duffel bag checklist, and talking points to help set your children up for success! KIC will also provide the duffel bag.
Purpose
To empower your children and let them know they have the capability of making change in our community.
Impact
Children will learn they can be true leaders and that their little hands can make a big impact on others by spreading Dr. King's message of equity and love.
When and Where
Jan. 16 from 4-5 p.m. – Virtual Project Introduction and Kick-off (Zoom)
Jan. 16-29 – Contact neighbors/friends/family and collect donations
Jan. 29 from 3-4 p.m. – Duffel bag drop-off
Kids Matter Inc. – 1850 N. Dr. Martin Luther King Jr. Drive, Milwaukee
Registration Information
Individual Families: CLICK HERE TO REGISTER
KIC will provide duffel bags until supplies run out. Invite the kids in your life to work together to fill one duffel bag OR put each kid in charge of their own duffel bag. Please indicate how many each child in your party needs when you register.
Large Groups: CLICK HERE TO REGISTER
As we have a limited number of duffel bags, we are asking all large groups this year to provide their own duffels. We are happy to offer suggestions!
Participant Cap: 125 duffels 
Age: K5+
Cost: Dependent on what your family decides to purchase and add to the duffel. But, we encourage you to have your children reach out to family, friends, and neighbors to assist you in filling the bag. Put your kid in charge!
Cancellations: In the event that you are unable to fill your duffel bag, please contact Erin LeMoine at [email protected].
Questions: Email [email protected] with any questions or if you need to make alternative arrangements to deliver your filled duffel bag.  
Learn more about Kids Matter, Inc. on their website https://kidsmatterinc.org.