Intergenerational Playgroups – The Waters of Oak Creek
March 22 @ 10:30 am

-

11:15 am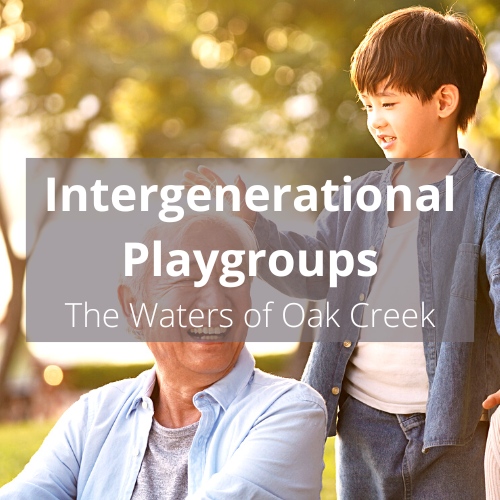 Older adults have a special place in our hearts. Kids Impact Community has hosted intergenerational playgroups since the organization's inception. Our kiddos have learned patience, kindness, and how to make new friends of all ages, and our "grandfriends" benefit tremendously from the interaction with our children.
Activities
At each playgroup, we follow the same structure to help children and residents alike become familiar with and comfortable in the playgroup. We begin with a hello song followed by a book, a craft, and an activity. If time permits, we will have free play followed by our goodbye song. We always have a new fun theme each month!
Purpose
To provide an opportunity for children, parents, and assisted living residents to interact and play with each other in a relaxed, friendly, and organized environment.
Impact
Children will develop awareness of and relationships with members of the community they would otherwise not meet. Residents in the assisted living facility will have a chance to be around our energetic and humorous cutie-pies and offer their love and gentle care for them.
When and Where
March 22
10:30-11:15 a.m.
The Waters of Oak Creek
8000 South Market Street
Oak Creek, WI 53154
(Right on Drexel Town Square)
Please meet in the main lobby.
Parking: The Waters has a small parking lot just off Market Street. There is also street parking right outside of their entrance. Alternatively, the Oak Creek Library is located across the street and also has parking.
This is the first of a series of monthly playgroup sessions each month during the 10:30-11:15 a.m. time frame. We encourage participants to register for upcoming sessions as well! Regular attendance helps the residents see familiar faces and provides a greater opportunity to develop meaningful relationships.
Wednesday, April 26
Wednesday, May 24
Registration Information
CLICK HERE TO REGISTER for MARCH 22  (FILLED)
CLICK HERE TO REGISTER for April 26
CLICK HERE TO REGISTER for May 24
Participant Cap: Maximum of 15 participants
Age: 0-6 years old
Cost: Free
Attire: Masks are recommended, but not required for visitors. Have your kids dress for play. We play with paint, bubbles, markers, and more!
Questions: If you have any questions, please contact Tre Rice at [email protected]